1/35 MIM-104F Patriot PAC-3 withLaunch Station AFV Club #AF35S93 Factory Seal MISB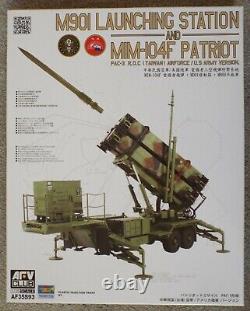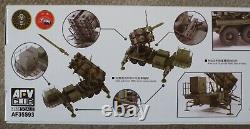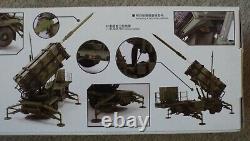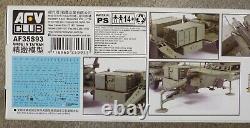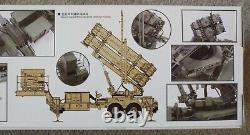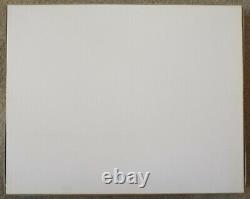 I need to clear some space on my shelves, so I need to part with some of my collection. The MIM-104 Patriot system is the US Army's mobile and modular Surface to Air Missile (SAM) and anti-ballistic missile (ABM) system.
It has been around since the 80s and has been upgraded regularly. The PAC-3 is the newest and has been deployed to many US Allies. The AFV Club outfit from Taiwan has been putting out great kits for years. In this case, they have taken a fantastic kit from Trumpeter (TRP #1040, which I may still have listed) and added some new resin, PE parts and decals to create an outstanding Patriot Missile battery (M901 Launching Station and MIM-104F Patriot PAC-3 M91 Munition). This kit is just the trailer and weapon system without the truck to pull it.
Here is some of the info about this outstanding kit that I found from around the web. They also include the following list of impressive features of this state-of-the-art kit. Including one 1/35 MIM-104F missile model. Including 4 sets resin pipeline.
High precision M860 semi-trailers detail. Precision PE part of M860 semi-trailers.
Brand new PE part of M901 launcher system. New modeled finely data link terminal module. New PAC-3 decal and painting of ROCAF and US Army. There is a link to download the complete 22-page instruction set and full-color painting guide from the original Trumpeter kit (#1040).
There are also a few links to aftermarket parts, resources and walkarounds of actual Patriot sites. This kit is in a large, sturdy box about 19" x 15" x 5. As you can see from the pictures, the package is pristine and still sealed with six tape strips, so it is. Factory sealed and absolutely gift-ready. This item contains one complete injection molded plastic model kit with over a dozen sprues of plastic pieces, four detailed resin parts, four frets of photo etched metal parts, four vinyl tires, flexible tubing and a set of decals.
It requires cement and paint to complete as shown. Those familiar with my listings can tell that I really enjoy these products and the modeling hobby.
I like to provide more than just the bare facts about the items, trying to lead you into discovering more about the subjects and optimizing your builds (if that is your goal). I started out picking up models that I was interested in, with the eye toward building them when I had time. Always a bargain-hunter, I accumulated many more than I can build, so I found myself in a Collector status (sounds nicer than a hoarder). Now I enjoy making these products available to my fellow modelers; both Builders and Collectors.
For Collectors, my goal is to save you a few bucks over the competition for the same item in factory sealed and collectible (or resellable) condition.

---