Kotobuky Megami Device Immediately Kanagata No Bonus Item Parts A5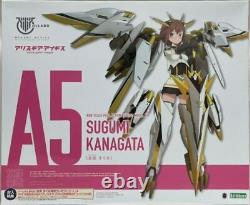 EVEN THOUGH THIS WILL BE SENT BY DHL EXPRESS, PLEASE ANTICIPATE A LONG WAIT FOR IT TO ARRIVE. Please be sure to read all contents before purchasing. By placing an order with us you agree that you have read, understood, and agree everything below.
Please do not place an order unless you are happy with the item. If this item originally came with anything that is not shown in the pictures (cases, bonuses etc), then they are not included with in this listing. Now you can find our wonderful selection of books, toys and figures from anime, manga, games, cards, cosplay goods, j-pop goods and other Japanese popular culture and more right here!
We also have our fantastic dolls and old-school toys too. Kotobuky Megami Device Immediately Kanagata No Bonus Item Parts A5. Approx 12.99 x 15.75 x 3.94in (330 x 400 x 100mm).
Approx 40.57oz (2.535lb 1150g). General Conditions --- Since all of our items are second hand, they may have slight signs of damage, such as minor scratches. If the item has noteworthy damage it will be mentioned above. Please note that items with clear cases are likely to have discoloration that is not clear in the pictures. The size and weight indicated above include any packaging that comes with the item.
Unless the item does not come with any packaging, this is not the size of the item itself. Please note that some product boxes may show other items from the same series, but they are not included unless otherwise noted. Items are not hand-signed unless specifically mentioned. Items that are'Motor Powered' may not include a motor.
Items that are noted as unopened/resealed have not had their condition checked beyond what we can see from outside as we cannot open the package. Some items, such as books, may be shown in the pictures as wrapped. This is to protect them while they are in the store, they are not brand new unless specifically mentioned. Conditions (More Information) --- Sometimes items have single word descriptions for their conditions. Please use the following guide for more information on item conditions.
Unopened / Not Opened - The item is still sealed, the contents are unused. Please note that we have not checked the condition beyond what we can see from outside as we cannot open the package. The contents show no signs of use.
Opened - The item has been opened and has signs that it has been handled in someway. It may have minor scratches, stains etc. Used - The item has been opened and has clear signs of use such as scratches, stains etc.
Single Letter Conditions --- If the condition of an item is noted as only a single letter, please use this guide. (This is often the case with items that are books, posters, DVDs, discs etc) S / New - Mint condition and can be considered new.
A / M - Above average, good condition for a secondhand item. B / EX++ - Average for a secondhand item, may have some minor damage.
C / EX - Below average, suitable for enjoying/reading etc rather than for a collection. D / VG / G - Considerably damaged.
Photographs and Descriptions --- As we have more than one of each item available, it is not possible for us to upload pictures of each one individually or on request. Please note that we also cannot give detailed descriptions of each item. Bonus Items --- Unless it is mentioned in the title, description or shown in the photographs, any bonus items, accessories, supplements or any other extras that may have originally come with this item are not included. Similarly, bonus items that are for sale that were originally included with games, DVDs and so on (such as certain Nendoroids and Figmas) only contain the bonus item no discs, games etc will be included as it is the bonus item only. This is still the case if the package shows a DVD mark, game system logo etc.
Please check that your address is correct. We do not accept offers or lower price requests.
Import Restrictions --- Some items can not be imported into certain countries due to their nature. Please note that as we cannot check each country's prohibited list, you are required to check if you are allowed to import your item before purchasing.
We will not undervalue orders. Please be aware that too many order cancellations or order problems can result in you being blocked from shopping with Mandarake in the future.
Japanese Products --- Unless otherwise mentioned, most items listed, including electronic and media items, are produced for the Japanese domestic market. As such some items will not work outside of Japan. Unless you are certain you can use this item, please do not order it.
DVDs in Japan are region 2 and Blu Rays are Region A or 1, and are very unlikely to included non-Japanese dubbing or subtitles. Instruction manuals, guides (if included) and so on are likely to be in Japanese unless otherwise indicated. Any sizes mentioned in the listing will use the Japanese standard sizes (please note that Japanese B sizes for posters etc are different to some other countries). Please note that Japanese does not have distinct plural words, so if this listing ends with an "s" it may be a translation error; please do not assume multiple items. Translations --- Our listings are translated from Japanese into English by automated software.
As this is AI based, it can sometimes take a while for some items to be updated. While we do try to check and update items manually when we notice strange translations, there are occasions where items may not be noticed. By placing an order, you are confirming that you have understood what was intended the listing in its entirety. If you place an order for a listing that has not yet been translated or has been translated strangely, you are confirming that you are able to understand it. Please see the main listing for the complete title. Perishable Items --- Any items that were originally of a perishable nature should be considered as unusable unless otherwise mentioned. If an item also contains an item that was once edible, it should not be consumed under any circumstances. Box Sets, Series Seasons and Single Volume Items --- In Japan many items such as DVDs, Blu-Rays, CDs, tapes and so on can come in a box set.
If this item is a box set and it does not say a particular season in the title or description, please do not assume it is a multi season set. Even if the pictures show multiple discs, this does not mean that each disc is a whole season.
Please also bear in mind that for most series that have multiple seasons, a'Season 1' box set may not have'Season 1' written on it, and so the listing may also not have'Season 1' written in the title or description. If the title has a number after it, it is the volume number not the season number. It is a single disc that will usually have 2-4 episodes on it, not a full series. By placing an order with us you agree that you have read, understood, and agree to all of the above. This item is in the category "Toys & Hobbies\Models & Kits\Figures". The seller is "mandarake" and is located in this country: JP. This item can be shipped worldwide.
Brand: Kotobukiya
Series: Megami Device
Item Name: Alice Gear Aegis
Item Condition: Unassembled, package damaged
SKU: utoy2B07t-00JHDNY1
UPC: 4934054021161
Size: 12.99 x 15.75 x 3.94in (330 x 400 x 100mm)
Weight: 40.57oz (2.535lb 1150g)

---